Claude was the younger brother of Roxanne.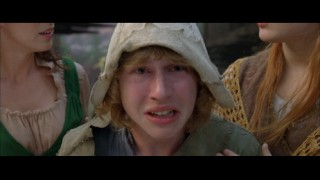 Personality
Edit
Due to the fact that he has autism, Claude is unable to speak much and is often too curious and dependent for his own good, as he is almost never seen without Roxanne, his older sister. However despite his disability, Claude is a kind and thoughtful young man who was easily able to tell of Valerie's distress when she learned her maternal half-sister, Lucie, was killed by the Wolf. He seemed to be very good friends with the latter, as he appeared devastated when he first discovered her lifeless body in the deleted scenes, soon after running off to find his mother and older sister, screaming in agony. After finding them, Claude cries, "It's the Wolf!" This is the first and only time he speaks.
Claude is also unafraid of showing his interest of playing with cards to other people, which he is very skilled at, and which unfortunately leads to his downfall as Father Solomon accuses him of witchcraft, despite Roxanne, Valerie, and Father Auguste trying to tell him otherwise but to no avail. When he is unable to tell Father Solomon of the Wolf's true identity, he is locked up in an iron elephant brazen bull, where he dies tragically.
Red Riding Hood
Edit
While the townspeople rush to the Church (as the Wolf is unable to step onto holy ground), Valerie and her friend Roxanne venture into the village to search for Roxanne's autistic brother, Claude.
The following day, Claude is captured by Father Solomon's men. Having witnessed Claude performing a card trick earlier, Father Solomon claims he's a student of the dark arts and attempts to force the frightened Claude to reveal the Wolf's identity. When Claude is unable to do so, Father Solomon locks him up in a large iron elephant brazen bull. In exchange for Claude's release, Roxanne reveals that Valerie is able to communicate with the Wolf but he is already dead by the time the Captain opens the elephant.
*Claude's name means "lame" in many languages, which could mean that he was viewed poorly by the villagers.