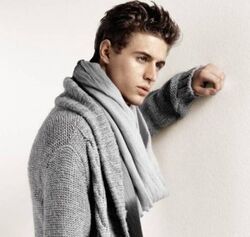 Max Irons plays Henry, Adrian Lazar's son in Red Riding Hood.
Early Life
Edit
Born in London, Max Irons' parents are Jeremy Irons and Sinead Cusack, who are both award-winning actors. His grandfather was the celebrated Irish actor Cyril Cusack.
Though he's the son of acclaimed actors Jeremy Irons and Sinead Cusack, it was not a given that Max would enter the family trade. throught elementrary school he struggled with dyslexia, whitch made it difficult for him to read and memorize lines, and his father discouraged him from pursuing an acting career. "He told me, 'It's a ruthless business, and you're potentislly destined for a life of unhappiness, financial instability, jealousy, and paranoia'. But when he realized I was serioius, and said 'OK, go for it' ". So go for it he did.
In 2008, Max graduated from The Guildhall School of Music and Drama. During his training, he honed his craft with roles in such plays as Oedipus, The Revenger's Tragedy, The Cherry Orchard, Plenty, The London Cuckolds, Twelfth Night, Semi-Monde, Under The Blue Sky and New Girl in Town.

Max, who has modelled for Burberry, has an older brother named Samuel, who did some acting as a child.
Max earned a prestigious Ian Charleson Award nomination for his performance in Friedrich Schiller's Wallenstein at the Chichester Festival Theatre, which marked his professional stage debut.
He made his feature film debut with a small role in Dorian (2009), starring Colin Firth and Ben Barnes. He went on to play a lead role in the Warner Bros. feature Red Riding Hood, starring Amanda Seyfried. On the small screen, Max played Tommy in the British miniseries The Runaway, based on Martina Cole's bestseller. After being cast as Henry in "Red Hiding Hood" Irons says Henry is a guy "from the right side of the tracks". Max and co-star Shiloh Fernandez play bitter rivals onscreen but offscreen they're anything but. "Having someone else who was new to a movie of this size to laugh with every once in a while took the pressure off".
Filmography
Edit
Year
Title
Role
Notes
2004
Being Julia
Curtain Call Boy
2009
Unrequited Love
Tom
Short film
2009
Dorian Gray
Lucius
2009
The Runaway
Tommy
Television series (two episodes)
2011
Red Riding Hood
Henry


Ad blocker interference detected!
Wikia is a free-to-use site that makes money from advertising. We have a modified experience for viewers using ad blockers

Wikia is not accessible if you've made further modifications. Remove the custom ad blocker rule(s) and the page will load as expected.