This is the relationship/true love between
Valerie
and
Peter
in Red Riding Hood.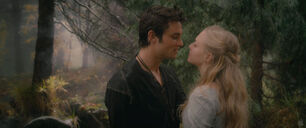 Peter and Valerie have been friends since childhood. They are in love with eachother, but Valerie's parents have arranged for her to marry Henry Lazar, son of the wealthy blacksmith Adrian Lazar. Valerie and Peter plan to run away together, only to learn that the Wolf has broken its truce not to prey on the townspeople in exchange for cattle stock sacrifices and has murdered Lucie.
Image Gallery
Edit
Ad blocker interference detected!
Wikia is a free-to-use site that makes money from advertising. We have a modified experience for viewers using ad blockers

Wikia is not accessible if you've made further modifications. Remove the custom ad blocker rule(s) and the page will load as expected.